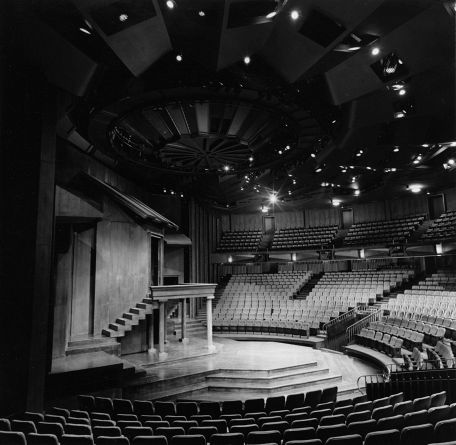 From
CP24
The Stratford Shakespeare Festival is beefing up its marketing campaign after putting 30 upcoming performances on hold because of the slumping economy.

The renowned festival -- based in Stratford, Ont. -- will increase advertisements in magazines, newspapers and on radio stations, said spokeswoman Ann Swerdfager.

The target markets are Michigan, Ottawa, English-speaking Montreal and southwestern Ontario, she said.

In addition to the 30 dates that are currently in limbo, the festival has outright cancelled the April 30 performance of "West Side Story."

Swerdfager said festival research shows that 80 per cent of regular ticket buyers "do intend to make the effort to come to Stratford" this year.

"But they are making their ticket-buying decisions later on," she added.

"By putting these performances, and most of them are in the fall, on hold, it allows us to react to demand from our patrons and to put those back into sale as ticket sales pick up and the season goes on."

Fifty per cent of Stratford's American audience comes from Michigan, said Swerdfager, an area that has been hard hit by auto industry layoffs.

The 2009 Stratford season runs from April 11 to Nov. 1. In addition to "West Side Story," highlights include "Macbeth," "The Importance of Being Earnest" and "A Funny Thing Happened on the Way to the Forum."

This is the first time in the festival's 57-year history that Stratford has put performances on hold, said Swerdfager.

The freeze won't lead to job losses but could mean a dent in pay for some,she added.

"We didn't shorten the season so it doesn't shorten anyone's tenure with the festival," she said.

"Actors' pay isn't affected. Running costs, crew costs may have an impact if the shows are actually cancelled."

Last year, the southwestern Ontario theatre festival had critical successes, but posted a deficit of $2.6 million and reported a four per cent decline in attendance. Swerdfager said 11 people in administrative and production positions at the festival were laid off going into 2009.

The Shaw Festival, based in Niagara-on-the-Lake, Ont., has no immediate plans to put shows on hold, said a spokeswoman. She noted, however, that the festival -- which focuses on the work of George Bernard Shaw and his contemporaries -- has sold 15 per cent fewer tickets than last year at this time.

The economic slump has taken a toll across the arts community.

Earlier this week, the National Ballet of Canada said it is facing a deficit for the first time in a number of years and is scrapping its fall tour of Western Canada.

The ballet says it hopes to reinstate the tour "in future years when a more predictable and stable economic situation returns."