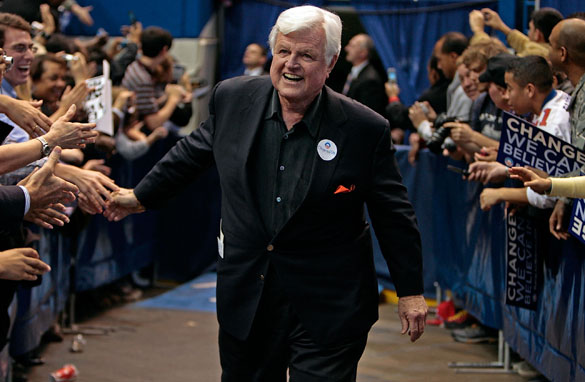 From CNN

Sen. Edward Kennedy is expected to stay overnight at a Washington hospital after suffering a seizure Tuesday afternoon during a luncheon for President Obama.






Sen. Kennedy, pictured earlier this month, was diagnosed with a brain tumor last May.
2 of 2 "After testing, we believe the incident was brought on by simple fatigue," said Dr. Edward Aulisi, chairman of Neurosurgery at Washington Hospital Center, in a statement.

"Sen. Kennedy is awake, talking with family and friends, and feeling well. He will remain at the Washington Hospital Center overnight for observation, and will be released in the morning," said the statement.

Paramedics were called to the Capitol's Statuary Hall at 2:35 p.m. Kennedy, 76, was taken by ambulance to Washington Hospital Center.

At the hospital, Sen. John Kerry, D-Massachusetts, said Kennedy was alert and in good spirits .

"He has his Irish up," Kerry said. "Ted Kennedy is going to be back in the Senate fighting for the things he cares about."

Kerry said Kennedy had a mild seizure, and quoted Kennedy's wife Vicki Kennedy as saying, "It just goes with the territory."

A Republican House member at the luncheon said Kennedy, D-Massachusetts, was still experiencing seizures when he was put in a wheelchair and taken out through the Rayburn room, located to the side of Statuary Hall. The incident happened at the end of lunch.

Obama mentioned Kennedy's condition while speaking at the luncheon.

Kennedy "was there when the Voting Rights Act passed," the new president said. "Along with John Lewis, [Kennedy] was a warrior for justice. And so I would be lying to you if I did not say that right now, a part of me is with him. And I think that's true for all of us. This is a joyous time. But it's also a sobering time, and my prayers are with him and his family and [his wife] Vicki."

Obama "seemed very, very concerned," and went to the area Kennedy was seated, said Sen. Patrick Leahy, D-Vermont. "He spoke to others and asked for a moment of silence."

Former Vice President Mondale said he was sitting with Kennedy at their table, that he was doing fine when all of a sudden Kennedy started to convulse.

Secret Service officers moved in right away.

Sens. Chris Dodd, D-Connecticut, Orrin Hatch, R-Utah, and Kerry accompanied the ailing senator to an ambulance.

Dodd said Kennedy told him, "I'll be okay. I'll see you later."

Kennedy's wife was with him, Dodd said. "She knows what to do. He's in good shape."

Hatch said he told Kennedy, " 'Teddy you're going to be all right.' "

"I personally wish he hadn't come today," Hatch said.

"This is a person who cares about history. He wouldn't have missed this for the world."